Lumion 11.3
Standard vs Pro
Lumion 11 Standard
Standard version of Lumion with limited library content and features.
Lumion 11 Pro
Professional version of Lumion with all content and features (with no limitations)
Lumion Upgrades
Upgrade your current version of Lumion to the latest version (Lumion 11)
With the new shadows for omni lights, available in Lumion 11.3, rendering architectural design with the vitality of dynamic lighting becomes a natural, integrated part of your process.
Multifunctional Clip Planes
Reveal all the layers of your design, from multiple angles, with the multifunctional clip planes option.
Skillfully create informative yet beautiful images and animations that show all the measurements throughout your design.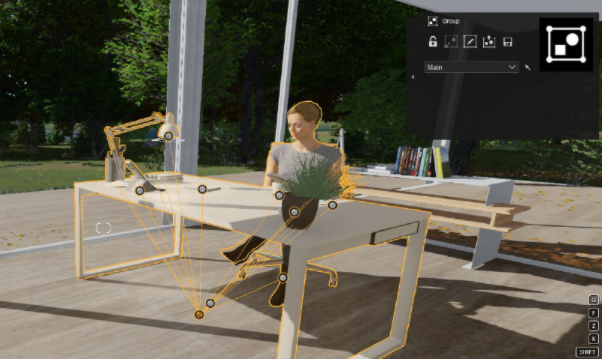 In Lumion 11.3, when a Group is selected, the links to all objects in the Group are visible. It is now possible to select a Group whenever the Group contains an object from the currently active Category. 
Introducing the top new features added in Lumion 11
Orthographic view
Animated phasing (Pro only)
Rain Streaks (Pro only)
Volumetric fire (Pro only)
Micro shadows for spotlights
Improved grass lighting
Metallic car shader (Pro only)
Basic tutorials for new users
New objects (some Pro only)
New materials
OSM Satellite maps (Pro only)
Custome IES Spotlights
LiveSync for BricsCAD
RAL color picker
High quality theater preview
Artistic panorama effects
Updated User Interface
Other workflow improvements
Foundation change
Shadows for omni lights (Lum 11.3)
Multifunctional clip planes (Lum 11.3)
New character silhouettes (Lum 11.3)
Improved group selection (Lum 11.3)
Rendered measurements (Lum 11.3)
Orthographic View
At each stage of the design process, the new orthographic view feature in Lumion 11 lets you embed life, color and texture into all of your technical renderings. Make exciting, lively plans, sections, elevations and isometric views in just a few clicks, and maintain continuity with your other renderings without having to rely on other software.
Available in Lumion Standard and Pro
Animated Phasing
With the new animated phasing effect, you can show the process behind your project's development or construction through the power of animation. Apply different transitions, make parts of your building appear and disappear and highlight what makes your building creative and unique.
Only available in Lumion Pro
Full objects library
Show your designs with the energy of real-life spaces and environments with over 6,000 models.  From interiors to exteriors, forests and beaches to dense urban projects, the Lumion 10 Pro content library shaves hours off the rendering process as you can quickly find thousands of common objects.  (View Library)
Only available in Lumion Pro
Full materials library
With Lumion 10 Pro, you'll have access to 1,250+ beautiful materials (167 with displacement mapping), making it easier than ever to quickly convert the blank skeleton of your 3D model into a lively scene teeming with color, depth and feeling. Just some of the materials include 3D grasses, bricks, wood, stone, metal, glass, water and more.  (View Library)
Only available in Lumion Pro
RAL Color Picker
Lumion 11 now features a RAL color picker to ease your color selection and accurately connect it to the European color standard.
Available in Lumion Standard and Pro
High-quality theatre preview
It takes only a click to turn on the high-quality preview in Lumion Theater Mode and the Lumion Viewer, bringing you even closer to the final look and feel of your rendering before you actually hit the render button.
Available in Lumion Standard and Pro
360 Panoramas
Enjoy yourself as you surround your design with majestic mountains, idyllic waterfront views, captivating forests, energetic cities and sleepy suburbs.
In Lumion 11, you can now apply several artistic effects to your 360 panoramas, which you can experience on a mobile phone, tablet or many common VR headsets.
Available in Lumion Standard and Pro
Rain Streaks 
In Lumion 11 Pro, the new rain streaks option, as part of the Precipitation effect, captures the peaceful atmosphere of sitting inside and watching the rain. With only a slight movement of the slider, dozens of dynamic, intelligent raindrops move down glass surfaces, a gripping detail that would otherwise take hours to get right.
Only available in Lumion Pro
Volumetric Fire
The soft glow of fire tends to draw people together, and in Lumion 11 Pro, you can tap into the warm and welcoming atmosphere of fire with the new volumetric fire object. Simply add the new fire to cast a feeling of coziness and warmth to your interior and exterior renders, creating an uplifting mood that naturally attracts your audience into the space.
Only available in Lumion Pro
Metallic car shader
With the new metallic car shader in Lumion 11 Pro, the cars in your renders take on an impressive realistic quality, making them barely distinguishable from the real thing
Only available in Lumion Pro
Improved lighting realism
Lumion 11 now shows Improved lighting realism, from the interior to the exterior.
Micro shadows for spotlights

Improved grass lighting
Available in Lumion Standard and Pro
Aurora Borealis
Now, in Lumion , you can give an ethereal and artistic flavor to your renders by showing your designs under an orchestra of color and beauty with the new Aurora Borealis effect.
Only available in Lumion Pro
Photo Matching
Photo Matching is available in Lumion 10 Pro. With this feature, you can place your 3D model in the context provided by a real-life photograph and quickly and match them to your model with a few clicks of a button.
Available in Lumion Standard and Pro
OSM Satellite maps
The OpenStreetMaps feature takes another leap forward in Lumion 11 Pro to include beautifully detailed satellite maps. With the new OSM satellite maps, the real-world terrain, rivers, farmland, and more are all available, from all over the world, in just a click as you download the OpenStreetMap for your building location.
Only available in Lumion Pro
Real Skies 
It takes a single click to give your design a clear blue morning, a stormy afternoon or an unforgettable sunset.
Available in Lumion Standard and Pro
OpenStreetmaps (and height and satellite maps)
Add real-world terrain, rivers, farmland, and more in just a click. This functionality allows you to directly pick a location anywhere on Earth. Lumion then generates corresponding 3D maps by importing 2D data from the OpenStreetMap database.
Only available in Lumion Pro
Displacement mapping
Show the relief and detail on surfaces with custom or built-in displacement maps.
Only available in Lumion Pro
Atmospheric Rain and Snow
Express the real feeling of your designs with the Atmospheric Rain and Snow feature in Lumion Pro. By adding the Precipitation effect, you can create everything from the light drizzle to a full-blown downpour, the winter flurry to a whiteout blizzard.
Only available in Lumion Pro
Customizable 3D Grass
Spice up your herbaceous landscape designs and add a variety of realistic grasses to your parks, gardens, lawns and more with the customizable 3D grass in Lumion Pro.
Only available in Lumion Pro
Furry materials
Soft to the touch. Colorful and fluffy. For the ultra-comfy blanket or rug, the new furry material provides a charm that's second-to-none.
Only available in Lumion Pro
Hand-drawn outlines
 Lumion Pro makes it easy to clearly communicate the form of your design with the "hand-drawn" outline effect. Apply it together with photorealistic, sketch or artistic effects to draw a focus to your building's general shape and form.
Available in Lumion Standard and Pro
Soft and fine-detail shadows
Inject realism into your render with beautiful, realistic shadows.
Available in Lumion Standard and Pro
Sky light
Heighten realism and atmosphere with daylight simulation technology.
Only available in Lumion Pro
Fine-detail Nature
The 62 new Fine-detail Nature models in Lumion 10 Pro are the most detail-rich, beautiful 3D tree and plant models available in the Lumion Pro content library. With trees, bushes, shrubs and more, these finely detailed nature models can visually enrich the life in your project.
Only available in Lumion Pro
Soften hard edges
In real life, the edges of any surfaces generally appear slightly rounded or worn. They are never perfectly sharp. With the edges slider, your model will take on a more natural and weathered look, one better representing the real qualities of physical homes and buildings.
Only available in Lumion Pro
Tilt shift
There's something about a maquette that computer-generated renders can't replace. By applying the tilt shift effect,your design becomes part of a miniature world.
With a viewpoint above your model in Lumion Pro, the tilt shift effect changes the plane of focus and blurs the foreground and background.
Available in Lumion Standard and Pro
Model and material variation
Is the wood-focused flooring a good fit with the stone walls? Which will your client like more, Design A or Design B? Perhaps the home's siding and patio are proving tricky to match. Whatever the case, the variation control effect is an easy way to compare multiple options for materials and models.
Available in Lumion Standard and Pro
Foliage for materials
With the unique ability to transform simple shapes into realistic foliage, customized leafy hedges can be made of any shape and size you can imagine. Add creeping ivy (and other climbing plants) along entire surfaces like walls or statues.
Only available in Lumion Pro
Area Light and Light Strip
Area light and light strip provide a broad range of exciting possibilities, allowing you to enhance both interiors and exteriors with lights that go beyond the simple spotlight.
Only available in Lumion Pro
PureGlass®
Glass is widely used in architecture and good visualizations require that it is rendered accurately. PureGlass® technology gives you access to transparent, translucent or frosted glass that looks more compelling and realistic than ever.
Only available in Lumion Pro
Real Skies at night
With 44 Real Skies (which includes 5 new night skies) in Lumion 10 Pro, it takes a single click to immerse your design in the blues of a summer day, the black-grey suspense of a coming storm or the night sky and its thousand dazzling stars.
Available in Lumion Standard and Pro
Paint placement
Place hundreds of nature objects in your project, as if painting on a piece of paper.
Only available in Lumion Pro
Custom IES Spotlights
With the new custom IES spotlights in Lumion 11, simply upload Illuminating Engineering Society (IES) lighting profiles to recreate the exact lighting arrangement you need, illuminating the best parts of your project.
Available in Lumion Standard and Pro
Speedray™ Reflections
In Lumion Pro, reflective surfaces are automatically improved at the flick of a switch. Speedray™ Reflections offer the opportunity to massively improve image quality with little extra render time.
Only available in Lumion Pro
High-quality people models
Lumion Pro continues to expand its already huge content library with more high-quality animated 3D people from aXYZ Design. In Lumion Pro, 325 animated 3D people take on new poses, like sitting, bicycling or walking.
Available in Lumion Pro (some in standard)
Extra plant and tree models
Lumion Pro features almost 3 times as many trees and plant models. The extended model library includes more species and extra variations on species you get in the standard library.
All trees and plants, except for the Fine-detail nature, were created using SpeedTree (Registered Trademark).
Only available in Lumion Pro
Basic tutorials for new users
First time using Lumion? No worries! For over a decade, architects have celebrated Lumion as a stunningly simple learning experience, and building on that theme, Lumion 11 now features an in-program tutorial for new users to help reduce (and virtually eliminate) the already-short learning curve of Lumion.
Available in Lumion Standard and Pro
Other workflow improvements
Updated user interface


Enjoy a logical and intuitive flow as you work.

Updated color picker


Selecting the right colors for your project is simpler.

Custom value input


Enter custom values when crafting your scene and rendering

Proxies for better FPS


Get the most performance out of Lumion 11 when building complex scenes
Available in Lumion Standard and Pro
Measuring tools
Whether confirming the distance between two pieces of furniture or checking the perimeter of a garden, the measuring tools in Lumion Pro help you make quick measurement checks without needing to go back to your modeling software.
Available in Lumion Standard and Pro
Merge projects
A great tool for collaboration is the ability to merge content from a project file with your current project. This feature is essential for people working in teams because it allows you to work on a single project with multiple people.
Only available in Lumion Pro
Lumion Standard and Pro Comparison
Description
of functionalities
Floating licenses
Real Skies
Animated Phasing
Rain streaks
Volumetric fire
Metallic car shader
OpenStreetMaps + satellitemaps
Fine- detail Nature
Aurora borealis
Photo matching
OpenStreetMaps (height maps)
Customizable 3D Grasses
Atmospheric rain and snow
Furry materials
Hand-drawn outline effect
Soften hard edges
Tilt Shift
Model and material

variation options

Measuring tool and grid object
Speedray™ Reflections
PureGlass®
Foliage for materials
OpenStreetMap import
Area lights and line lights
Model library
Animated 3D people and animals
Ambient sound effects
Advanced 3D title effects
Merge project files

Lumion viewer

Main movie sound effect

Sound output in MP4
This feature is included

This feature is included

This feature is not included

This feature is not included

This feature is not included

This feature is not included

This feature is not included

This feature is not included

This feature is not included

This feature is included

This feature is not included

This feature is not included

This feature is not included

This feature is not included

This feature is included

This feature is not included

This feature is included

This feature is included

This feature is included

This feature is not included

This feature is not included

This feature is not included

This feature is not included

This feature is not included

1,928 models (View Library)

118 characters

No Sound Effects

This feature is included

Limited Title effects

This feature is not included

This feature is not included

This feature is not included

This feature is included
This feature is included

This feature is included

This feature is included

This feature is included

This feature is included

This feature is included

This feature is included

This feature is included

This feature is included

This feature is included

This feature is included

This feature is included

This feature is included

This feature is included

This feature is included

This feature is included

This feature is included

This feature is included

This feature is included

This feature is included

This feature is included

This feature is included

This feature is included

This feature is included

5,840 models (View Library)

367 characters

123 Sound Effects

This feature is included

27 Title effects,12 built-in fonts

This feature is included

This feature is included

This feature is included

This feature is included
| | | |
| --- | --- | --- |
| Description | Lumion Standard | Lumion Pro |
| Description | Standard version of Lumion with limited library content and features. | Professional version of Lumion with all content and features. |
| Perpetual floating license | When you buy Lumion, you can use the license indefinitely. You can install a single Lumion license key on any number of computers, by any number of people. If two or more people want to use a single Lumion license key on different computers at the same time, then you need to add seats to your license. | When you buy Lumion, you can use the license indefinitely. You can install a single Lumion license key on any number of computers, by any number of people. If two or more people want to use a single Lumion license key on different computers at the same time, then you need to add seats to your license. |
Description
Lumion Standard
Lumion Pro
3D model import

Collada (.DAE)         SketchUp® (.SKP)

Autodesk® (.FBX)    Autodesk® (.DWG)

Autodesk® (.DXF)    3DS Max® (.MAX)

3DS Max® (.3DS)     Wavefront (.OBJ)

Collada (.DAE)         SketchUp® (.SKP)

Autodesk® (.FBX)    Autodesk® (.DWG)

Autodesk® (.DXF)    3DS Max® (.MAX)

3DS Max® (.3DS)     Wavefront (.OBJ)

Image import

TGA    DDS

PSD    JPG

BMP    PNG

TGA    DDS

PSD    JPG

BMP    PNG

Material map import

Color map

Normal map

Displacement map

Color map

Normal map

Displacement map

Video import (MP4)

•

•

Lightmap import: E.g. from AutoDesk®
3D Studio Max

•

•

2D background sound/music (WAV)

•

Model and material variation options

•
Description
Lumion Standard
Lumion Pro
Output image formats

JPG      TGA

BMP     PNG

JPG      TGA

BMP     PNG

Output image resolution

1280×720 (0.9 Megapixel)

1920×1080 (2.1 Megapixel)

3840×2160 (8.4 Megapixel)

7680×4320 (33.2 Megapixel)

1280×720 (0.9 Megapixel)

1920×1080 (2.1 Megapixel)

3840×2160 (8.4 Megapixel)

7680×4320 (33.2 Megapixel)

Output video formats

MP4 (AVC codec)

JPG      TGA

BMP     PNG

MP4 (AVC codec)

JPG      TGA

BMP     PNG

Output video resolution

640×360 (480p)

1280×720 (720p)

1920×1080 (1080p)

2560×1440 (1440p)

3840×2160 (4K)

640×360 (480p)

1280×720 (720p)

1920×1080 (1080p)

2560×1440 (1440p)

3840×2160 (4K)

Output video frame rates

25/30/60/200

25/30/60/200

Output to image sequence

Max 3840 x 2160p

Max 3840 x 2160p

Output to MyLumion® 360 Panoramas

•

•

Output 360 panoramas for the Samsung Gear VR
and Oculus Rift

•

•

Output of Depth Maps, Normal Maps,
Lighting Maps, Sky Alpha Maps, Reflection Maps
and Material ID Maps

•

•

Output of sound in MP4

•

•
Description
Lumion Standard
Lumion Pro
Object library
•Fine-detail nature
•Plants and trees (affected by wind)
•Transport models (cars, buses, boats etc)
•Exterior models (street furniture, buildings etc)
•Interior models (furniture, decoration etc)
•Animated 3D people
•Animated animals (birds, farm animals, pets, fish)
•Children (not animated)
•3D people & animal silhouettes
•3D animal silhouettes
•2D people silhouettes
    1,928 models 
     (View Library)


        5,840 models
         (View Library)


High-quality animated 3D people,
some from AXYZ Design
   118 characters

   367 characters

3D sound effects
•Ambient sounds (nature, locations, etc)
•People
•Things (Cars, machines, etc)

123 sound effects

Title effect styles

14 basic styles

27 styles

Text-in-3D-Scene

•

Lights and utilities
37

43

Area/Line lights

•

Material library categories
•Various terrain materials
•Nature, Indoor, Outdoor materials
•10 customizable material types (water, glass, billboard, lightmap etc)
•Custom materials library
•
•
PureGlass® stock materials
81
HDRI skies
39
44
Customizable 3D grass materials
14
Furry materials
10
Leaf stock materials
9
Volumetric fire
8
Water presets
20
20
Total materials

1,178

 

materials

1,292

 

materials
Materials with displacement mapping

229 materials

229 materials

HQ Materials from Poliigon

252 Poliigon materials

252 Poliigon materials

Environment & weather
•Real Skies
•42 landscape types
•6 water types
•Customizable weather (cloud cover, sun position etc)
•Ocean with waves slider, turbidity, color etc
•Waterfall material

•

•
Description

Lumion Standard

Lumion Pro

Scene editor

•Easy model placement
•Intuitive material editing
•Landscape editing and rendering
•Advanced sky and cloud rendering
•Realistic water rendering

•

•

•LiveSync® for AutoCAD®
•LiveSync® for SketchUp®
•LiveSync® for Revit®
•LiveSync® for ArchiCAD®
•LiveSync® for Rhino 6®
•LiveSync® for Vectorworks®
•LiveSync® for BricsCAD®

•

•

Upgraded OpenStreetMap import (with height and  satellite maps)

•

20 Scene Layers

•

•

Movie editor
•Intuitive camera animation editor
•Animated models
•Sun/sky animations
•Add title screens, scene and post-processor effects
•3D output for side-by-side stereoscopic 3D playback

•

•

Animation
•Animation import
(move/rotate/scale
animations via FBX files)
•Advanced animation
(Curved animations, multiple keyframes)
•Animated effects

•

•

Background rendering mode

•

•

Custom terrain material sets

•

•

Custom terrain texture import

•

•

Exchange of project files
for team use

•

•

Merge project files
for team use

•
Description
Lumion Standard
Lumion Pro
Movie and photo effects

Sun effects
Sun, God Rays, Sun Study, Volumetric Sunlight

Weather effects
Fog, Precipitation

Sky effects
Real Skies, Sky and Clouds, Contrails, Volume Clouds, Horizon Cloud, Moon

Objects
Water, Layer Visibility, Autumn Colors

Camera
Orthographic view, Photo Matching Handheld Camera, Exposure, 2-point Perspective, Depth of Field, Lens Flare, Chromatic Aberrations, Fish Eye

Animation
Animate Light Colors, Time Warp

Artistic 1
Color Correction, Pastel Sketch, Image Overlay, Sketch, Sharpen, Painting, Vignette, Noise, Watercolor

Artistic 2
Bloom, Analog Color Lab, Manga, Styrofoam, Selective Saturation, Bleach, Cartoon, Material Highlight, Blueprint, Oil Painting, AI Artist Styles

Advanced
Shadow, Reflection, Print Poster Enhancer, Sky Light 2, Hyperlight, Near Clip Plane, Global Illumination

Sun effects
Sun, God Rays, Sun Study, Volumetric Sunlight

Weather effects
Fog, Precipitation (atmospheric rain and snow)

Sky effects
Real Skies, Sky and Clouds, Contrails, Volume Clouds, Horizon Cloud, Moon

Objects
Water, Layer Visibility, Autumn Colors

Camera
Orthographic view, Photo Matching, Handheld Camera, Exposure, 2-point Perspective, Depth of Field, Lens Flare, Chromatic Aberrations, Fish Eye

Animation
Animated phasing, Animate Light Colors, Time Warp

Artistic 1
Outlines, Color Correction, Pastel Sketch, Image Overlay, Sketch, Sharpen, Painting, Vignette, Noise, Watercolor

Artistic 2
Bloom, Analog Color Lab, Manga, Styrofoam, Selective Saturation, Bleach, Cartoon, Material Highlight, Blueprint, Oil Painting, AI Artist Styles

Advanced
Shadow, Reflection, Print Poster Enhancer, Sky Light 2, Hyperlight, Near Clip Plane, Global Illumination

Movie only effects
Move, Advanced Move, Sky Drop, Variation control, Mass Move (curved), Motion Blur, Fade in/out, Titles, Wind, Sound, Side by Side 3D Stereo
Animated phasing, Move, Advanced Move, Sky Drop,
Variation control, Mass Move (curved), Motion Blur, Fade in/out, Titles, Wind, Sound, Side by Side 3D Stereo
Pro only effects
Aurora borealis, Atmospheric rain and snow, Speedray® Reflections
Hyperlight® 2
in Photo and Video modes
•
•
OmniShadow®
•
•
Materials
Physically-based rendering
•
•
Weathering for materials
•
•
Transparency for materials
•
•
PureGlass®
•
Foliage for materials
•
Special effects: 112 effects
8 types of volumetric fire, 3 types of falling leaves, 48 types of fountains and "water walls", 16 types of regular fire effects, 20 types of smoke effects, 5 types of dust effects, 6 types of fog effects, 6 types of steam effects
Description
Lumion Standard
Lumion Pro
Languages

English (default language), Chinese, Chinese (TW), Czech,

Danish, Dutch, French, German,

Greek, Hebrew, Italian, Japanese,

Korean, Norwegian, Polish, Portuguese (BR),

Russian, Spanish (ES), Turkish, Slovak

English (default language), Chinese, Chinese (TW), Czech,

Danish, Dutch, French, German,

Greek, Hebrew, Italian, Japanese,

Korean, Norwegian, Polish, Portuguese (BR),

Russian, Spanish (ES), Turkish, Slovak

Internet connection required

•

•
Lumion is fully compatible with and have Live Sync Plugins for